Recommended 4K monitor selections for video editing
If you challenge to 4K video editing,
Of course 4K monitor is an essential item.
Recent 4K monitor the market is rapidly expanding,
I think there who do not know may choose which one.
In this article, the video material service Rebester unique specializing in 4K
Five recommendations for 4K monitor will introduce.
According to the everyone of your own budget and applications I hope to reference.
In Rebester, summarizes an article about 4K video editing.
Please see from here on also what you need in addition to the monitor.
Related articles: 5 election what you need to 4K video editing
Recommended 4K monitor List
Product name
Price
Manufacturer
Size
Panel
Resolution
Color Management
S2722QC
¥52,980
DELL
27 inches
IPS

3840×2160

-
P3222QE
¥67,482

DELL

32 inches

IPS

3840×2160

-
EV3285

¥140,000

EIZO

31.5

inch

IPS

3840×2160

-
SW271C
¥178,200
BenQ
27 inches

IPS

3840×2160

〇

CG319X
¥498,000

EIZO

31.1 inches

IPS

4096×2160

〇

32EP950-B
¥448,000
LG

31.5

inch

OLED

3840×2160

-
What is important is the size of the panel and Color Management
It is the first size, but 27-inch is the minimum required.
Recommended is more than 31 inches.
In the case of 4K, because the resolution is four times of FHD (full high definition), it is a very high-definition.
You can not 4K benefit from a small monitor. Since there is a 4K worth of the larger the monitor, let's first note to that point.
Panel is, but in VA and TN no, let's select the IPS.
This is the part that greatly affects the color. Simply IPS is the most high quality.
In the past, I IPS felt high, the price is also not high up there now.
Finally, color management.
This has the advantage that you can work the correct shades in a variety of color space.
Also in the works that we finally stuck in color, is a ruin is wrong is the monitor that he or she is working.
In order to prevent this kind of accident, those who stick to the colors we recommend the introduction color management.
However, in the case of 4K monitor, the price will jump at once.
¥100,000 it's also in the following, but be careful because the color is not good.
Anyway cheap want more for: S2722QC
price:¥52,980
Manufacturer: DELL
Size: 27 inches
Panel: IPS
Resolution: 3840 × 2160

The cheapest is here in the model to introduce this time.
Yet the IPS 4K monitor is available for purchase in about ¥50,000.
sRGB cover rate is 99 percent.
In addition, there is a 65W power supply function of the USB-C because, desk around also clean.
Since also thin frame, it is recommended model for students who want to keep anyway cheap.
Price is cheap minute, size is smaller and 27 inches.
Good things-out want direction while suppressing the cost:
P3222QE
price:¥67,482
Manufacturer: DELL
Size: 32 inches
Panel: IPS
Resolution: 3840 × 2160
While suppressing the price, it is the perfect model for those who want a large size.
IPS, 32 inch, USB-C power supply, 4K, with specs that sRGB cover rate of 99% Price is around ¥70,000.
Highest peak in less than color management: EV3285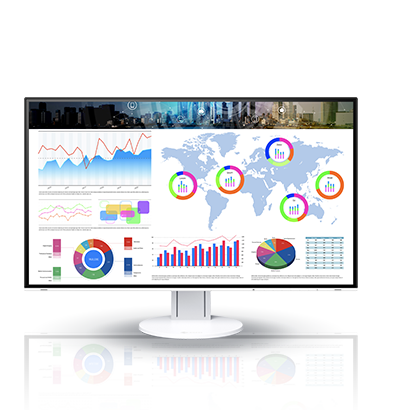 price:¥140,000
Manufacturer: EIZO
Size: 31.5 inches
Panel: IPS
Resolution: 3840 × 2160
Though it is almost the same specs as the DELL model on one
Price is EIZO monitors to 2 times.
The difference between the two would be still brand.
EIZO is the monitor brand of domestic, which is also supported by a professional in the field.
Its performance is top in the world, we have to sell the height of the quality.
If you want to also stick to the color while suppressing the cost is here of the model is recommended.
For people want to color management with reduced cost: SW271C
price:¥178,200
Manufacturer: BenQ
Size: 27 inches
Panel: IPS
Resolution: 3840 × 2160
The color management model equipped with the BenQ.
Size is a little smaller and 27 inches, but can be purchased at less than half as compared with the EIZO of the model described below.
However, since in terms of color and color reproducibility of the rise is minute to EIZO,
If you want to touch the color management, it may be good for those who want to experience with reduced cost.
The finest of the person for want to color management in equipment: CG319X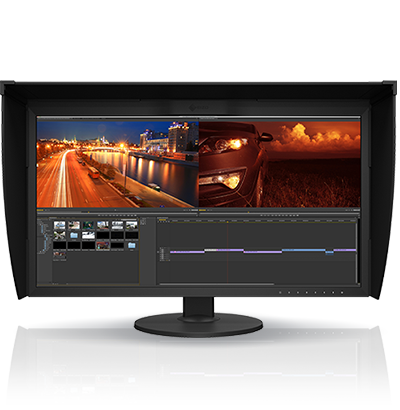 ColorEdge CG319X (calibration sensor built-in)
price:¥498,000
Manufacturer: EIZO
Size: 31.1 inches
Panel: IPS
Resolution: 4096 × 2160
Status quo is the highest peak of 4K color management monitor.
It has passed about three and a half years since its release, but still maintaining the position of the flagship.
Feature is a point higher recall of color and that you can work in a variety of color space.
In addition you can also perform simple HDR work.
Still is the price to become a bottleneck.
Be multiplied by the cost model is recommended for those who want to color management in 4K.
If 4K video editing in an OLED this: 32EP950-B
price:¥448,000
Manufacturer: LG
Size: 31.5 inches
Panel: OLED
Resolution: 3840 × 2160
Organic is the EL of 4K monitor.
The performance difference between the panel of the IPS has been phenomenal.
This only we will recommend that you take a look once in electronics stores and the like.
Furthermore, coverage of DCI-P3 There are 99 percent.
This is the color space of the next generation, which has been adopted by such as iPhone.
It is possible to reproduce the color wider than sRGB, it is expected the activity in the future.
Since it has also price is very high, I this is also consultation with the budget.
Trying to examine the monitor if 4K video editing
What did you think.
Monitor on which the 4K video editing Let's carefully chosen.
As we reported also at the beginning, other than budget
"Presence or absence of size panel color management" is important.
4K monitor is it found in many markets other than those introduced here,
It is also true that commodity is not a few of cheap and nasty.
Budget of at least 50,000 yen if the 4K monitor is wanted place.
Please enjoy the monitor to choose to suit budget and applications.
Material is recommended if 4K video editing Rebester
Better to the video editing in 4K is recommended 4K Animation of Rebester.
Rebester is a new platform that is created and distributed and sold the original CG Animation. The video summary of the material please click here. (The sound you will be Please note.)
Since more than 100 kinds of free video material also has been distributed, please have a look.
Stock Video Footage You can see from here.
You can download to choose from two types of 4K / HD.
High quality and sites that are dealing with free original stock video footage is rare in the world. To take advantage of the stock video footage, please enjoy the efficient video editing.
---